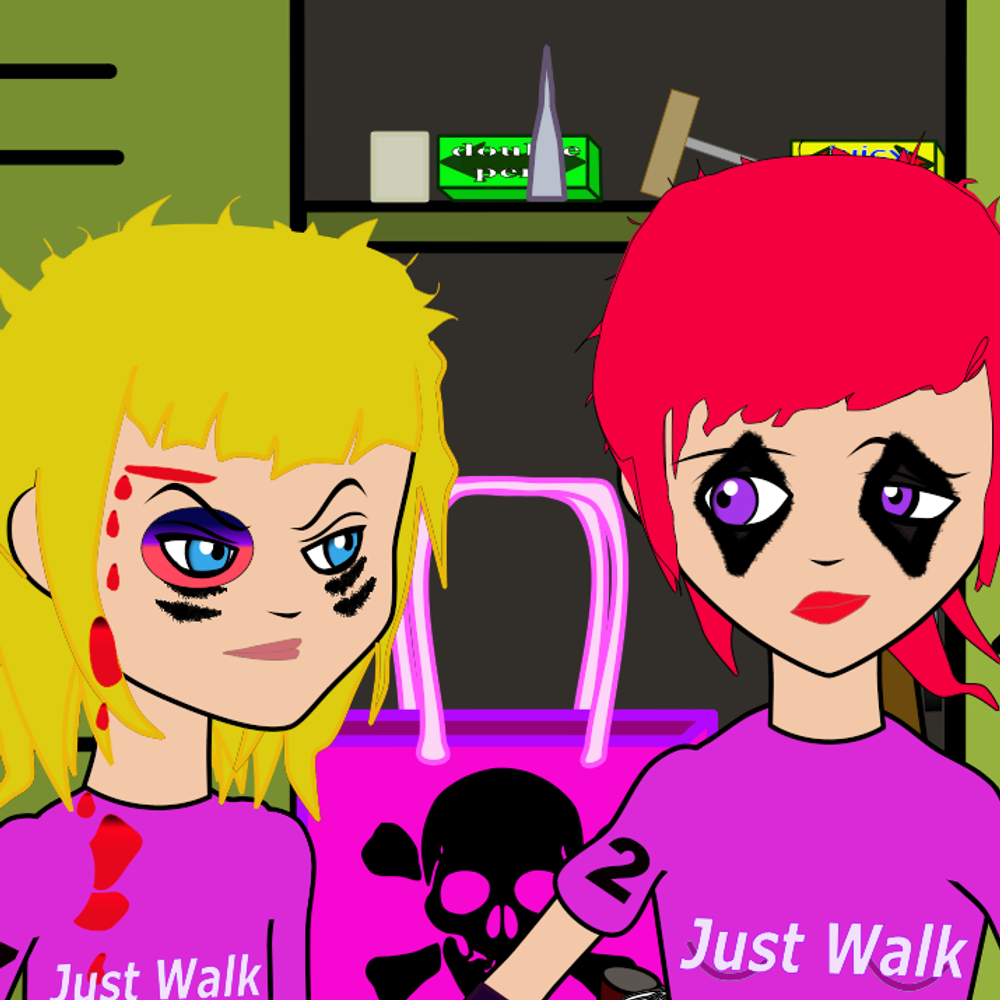 The Lil Eva Braun Show
Plot outline
Lil Eva Braun lives with her dad in the borough of Los Seatt-Bronxlyn. Eva puts on a tough girl persona due to her being a tough girl with a persona to match.
With mom in prison and her hapless dad dependent upon her to pay bills, cook, clean, help do his make up, Eva just tries to make the best of things (or beats the things up if that doesn't work.)
Cynically centered and more clever perhaps than she is smart; she's still the brightest on her block. Eva knows more about life and less about being a kid than the average 12 year old should.
She loves science, explosions, and roller derby (her religion of choice) where as The Evaiscerator, she's the jam queen for her team Just Walk Away.
Eva wants to be a fighter pilot or a medical examiner when she grows up.
Her views on boys and sex: "If ya axe me, I finds the whole concept of sex and sexuality to be compuullleeetely ridiculous, and a total waste of time. It's an overated necessary evil for the procreation of a species what probably don't deserve to go on any hows!"
Favorite music; "da stuff what plays in my head".
Favorite color: anything but periwinkle blue.
Favorite books: Philosophiæ Naturalis Principia Mathematica by Sir Isaac Newton, and The Art Of War by Sun Tzu.
Favorite vacation spot; Los Alamos.
Eva buses to Mydearwatson Elementary School, where home room teacher Ms Inglink displays affection & great patience for her, but asst principal & disipline officer Mr Sadistson is another story.
Eva loathes school but does well because she knows that's her best chance at becoming a pilot or pathologist!
~(In some skits, Eva & pals appear a little older as the grunge kids aka The Flannel Four (yeah yeah, there's more than 4 of them..Never mind that)!
~Eva's pals:
`Hermann 'Hoiman' Heeguhrl. Doughy next door neighbor nuisance on whom Eva regularly picks yet still looks after and protects like a brother. Ever eager to please; he's dumb as a box of rocks, but sweet as a box of candy. Hoiman likes to eat. He also likes eating. Loyal to a fault..(and he's got lots of them).
`Connie Vorr grew up across the hall from Eva.
`Mia Huertcha grew up 2 doors down the block.
`Ari's Hater is fresh in from Glasgow Scotland on a ..sort of delinquent exchange program.
`Twins Bindy Yover & Ronnie Y'over hail from Atlanta & NYC respectively. Bindy skates as Patty Waste, Ronnie as Frieda Nuthin. They're identical twins who look alike, move alike, finish each others sentences, but go to great lengths to dress and act very different from each other, fiercely refusing to admit they're twins.
Their logic; they were born on different dates in different states.
Due to an airliner storm diversion, debutante Ronnie was born over La Guardia New York on Dec 31. A short time later, tomboy Bindy was born Jan 1 over Atlanta Georgia.
Ronnie likes fashion boutiques and haute couture; Bindy likes Nascar, bowling and hockey culture. Oh yes, they have different fathers as well!
`Reznora 'Rezzy' Ellen Po, half Japanese, half CureNiNSioushees; 100% gothgirl. Wants to be a barber (not a beautician; a barber). She loves razors.. a lot.
As Chloe Shave, she skates for Eva's rivals The LadyKnots.
Rezney celebrates depression to the level of art form with cutting, bad poetry and perfecting sad facial expressions. She wants people to know she's sad, but disdains their sympathy. In other words; she enjoys misery, she does not enjoy company.
`Evan Chully. Eva's on/off 'boyfriend'..sorta.. He stays around by staying out of Eva's way.. Not real bright, but bright enough to keep his mouth shut..usually..
While religiously fanatical about roller derby, and absolutely brutal in a bout, the girls often engage in deep philosophical, scientific or political discussions while on the track. Topics range from Voltaire, to the periodic table, Franco vs Nationalists in the Spanish Civil War, to "do boys smell more like wet dogs or warm garbage cans?" ..You know; girl talk.
Boys, fights, home work, shoplifting, roller derby; just an average gal doing average things.
Lil Eva Braun, the Bavarian Borough Brat.